April 21, 2011 — Aerotech's AVS1000 series stages suit applications that require positioning of large or heavy loads over very small incremental movements in elevation above a horizontal plane. A low profile and precise motion capability make these stages a fit for semiconductor manufacturing and inspection, automated tool alignment, machine vision inspection systems, laser machining applications, and more.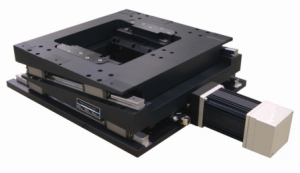 The AVS1000 series provides precise elevation of a load in a vertical plane using a moving-wedge design. The precision-machined wedge block converts horizontal movement from a precision-ground ball screw into vertical elevation of the AVS1000 series tabletop. Excellent pitch and yaw characteristics over the length of travel minimize the impact of angular errors. AVS1000 performance includes 5nm resolution and ±1µm accuracy, with the ability to apply this performance to large loads up to 135kg.
Sealed linear motion guide bearings with integral wipers are incorporated to provide excellent payload capability, long life, and smooth precision motion. The product offers stable and parallel vertical motion with no rocking or horizontal deviation of the platform.
The vertical lift approach offers an alternative to traditional Z-plane-oriented stages. AVS1000 series stages offer a lower profile with load access from any side due to the large aperture. By centering the payload over the bearings, there are no cantilevering effects.
The AVS1000 series includes Aerotech's high-performance NEMA 34 frame-size BMS series brushless, slotless servomotor. The slotless motor has zero cogging and therefore is optimized for applications requiring very smooth motion.
Aerotech manufactures a wide range of matching drives and controls to provide a fully integrated and optimized motion solution.
The AVS1000 series data sheet is available at http://www.aerotech.com/products/liftstages/avs1000.html
Also read: Minimizing equipment downtime through advances in wafer handling
Subscribe to Solid State Technology/Advanced Packaging.
Follow Solid State Technology on Twitter.com via editors Pete Singer, twitter.com/PetesTweetsPW and Debra Vogler, twitter.com/dvogler_PV_semi.