by James Montgomery, news editor
April 25, 2011 – Demand for semiconductor manufacturing equipment climbed again in March to a six-month high, according to data from SEMI.
For March, North America-based manufacturers of semiconductor equipment posted $1.62B in bookings, up 1.5% from February and 21% higher than a year ago. Billings were just a fraction under $1.70B, a -7.6% sequential decline but still up 50% Y/Y. Compared with preliminary results, SEMI added about $11M-$2M to February's totals for both sales and bookings.
Preliminary 1Q11 data indicates a 7.6% increase in sales ($5.326B) vs. a 0.9% increase in bookings ($4.730B).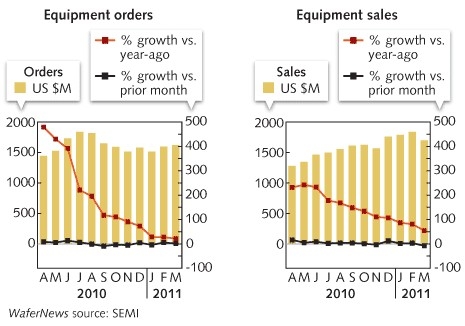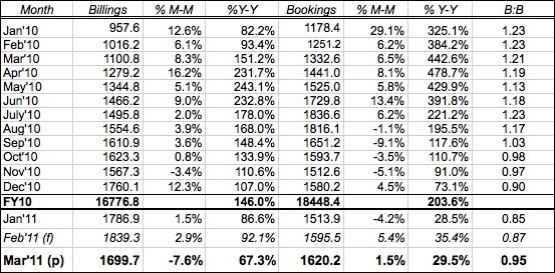 A look inside the March 2011 numbers:
Bookings have added about $100M in the past two months — for most firms it's the close of their 1Q11 books. But overall the total bookings hasn't fluctuated much beyond the $1.5B-$1.6B range since Sept. 2010. "We see industry investments remaining steady," noted SEMI president/CEO Stanley Myers, in a statement.
The billings data is a little curious. Usually sales get a bump in a fiscal/calendar quarter-ending month — but in March they gave back $140M, more than half the $260M that had been added in the previous three months. It's likely just the passing of a bubble down the supply chain — tool bookings took a -9% hit back in September, implying a reasonable six-month fulfillment pipeline.
The book-to-bill ratio climbed again to 0.95, meaning $95 worth of orders received for every $100 billed. That means more business is going out (sales) than coming in (orders), but it's also within shouting distance of the 1.0 parity mark, and is closer than the three previous months.
In Japan, more sales than bookings were tallied during March — ¥122.037B/US $1.49B (+20.9% M/M), vs. ¥115.862B/$1.90B (+5%) — so the B:B ratio slipped below parity to 0.95.
Breaking the backend-frontend trend correlation
While SEMI's monthly numbers are really a trailing indicator of industry health, they can provide some insight into specific sectors' performance and what might be expected next. Frontend bookings in March (the 3-mo. average) were $1.37B, down -0.7% M/M and -1.4% Q/Q — but backend tool bookings spiked 22.6% M/M (32% Q/Q) to $246M, points out Satya Kumar from Credit Suisse in a research note. Backend billings grew 19.5% M/M to $244.9M, resulting in an above-parity B:B of 1.01, better than the overall market.
The March data also is noteworthy because they encompass three weeks of post-quake data out of Japan, Kumar notes.
The aforementioned plateau in equipment bookings supports Kumar's assertion that we're in a period where the industry's typical peaks and valleys are being muted somewhat, and there's no longer a clear pathway between backend (leading) and frontend (trailing) cyclicality. Kumar brackets this particular cycle we're in at ~2009 trough – 2013 peak; initially bookings rose as utilization levels pick up, but by now they're being "sustained at high levels such that supply additions roughly equal demand growth," he writes. Backend bookings, meanwhile, "have gone through a full cycle," peaking last July, troughing in November, and now up 36% from then, "all the while frontend bookings were either increasing or have been sustained at high levels." So, last year's backend bookings drop didn't correlate to frontend declines as might have been expected, he writes. "Instead, equipment lead time differences for the segments, time taken to add new capacity, and overall supply/demand for the two segments are the drivers for orders."