April 6, 2011 — The March 11 earthquake and tsunami in Japan, and the ensuing power outages and transport disruptions, prove to be bolstering semiconductor markets in 2011. IHS iSuppli reports that supply disruptions related to the Japan earthquake and tsunami will contribute to higher than previously expected global semiconductor revenue in 2011, as shortages ramp up pricing for key memory devices.
The latest IHS iSuppli semiconductor forecast for 2011, issued on March 30, calls for annual semiconductor revenue growth of 7.0% to $325.2 billion — up from the 5.8% expansion predicted in the previous outlook from early February.
| | | | | |
| --- | --- | --- | --- | --- |
| | Q1 | Q2 | Q3 | Q4 |
| New Forecast | $76,063.0 | $78,026.0 | $84,506.0 | $86,622.0 |
| Old Forecast | $74,653.6 | $77,184.5 | $83,307.6 | $84,931.8 |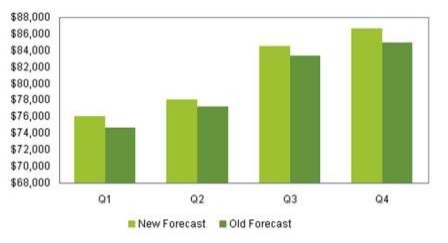 Figure. Revised and previous quarterly 2011 semiconductor forecasts (Millions of U.S. Dollars). SOURCE: IHS iSuppli April 2011.
The biggest factor contributing to the increased semiconductor forecast is a boost in the revenue outlook for dynamic random access memory (DRAM) devices. The new IHS iSuppli forecast increases the 2011 DRAM revenue forecast by 6.6 percentage points, and now anticipates this area will experience only a 4% decline for the year, compared to an expected decrease of 10.6% growth previously. The increase in revenue in this area is entirely driven by an increase in average selling prices during the first quarter, partly because of supply disruptions caused by the earthquake.
Neither of Japan's DRAM fabs was damaged in the quake. However, a chip assembly plant in Akita owned by Elpida Memory suffered a disruption in production, causing the reduction in shipments. Upward price pressure is expected to ease for DRAM in the second half of the year.
However, DRAM pricing could face further increases later this year if wafer shortage issues worsen. Japan is the world's leading producer of silicon wafers, the key raw material used to make semiconductors, accounting for 60% of global supply. Top wafer supplier Shin-Etsu continues to suffer production outages for its 300 mm wafer manufacturing. The company's Kamisu and Nishigo plants are down, which together account for about 20% of global wafer production.
"Supply of 300mm raw wafers could be a problem for memory makers," said Mike Howard, principal analyst for DRAM and memory at IHS. "If these supply problems persist, manufacturing efficiency will be impacted when raw wafer inventory is depleted. When the number of wafers in the manufacturing supply chain declines to less than 50 percent of typical levels, then DRAM output will be impacted. This could happen starting in October, resulting in further price increases for DRAM."
Learn more at www.isuppli.com/Semiconductor-Value-Chain/News/Pages/Impact-of-Japan-Disaster-Boosts-Worldwide-Semiconductor-Revenue-in-2011.aspx