April 27, 2011 – Gigaphoton, the 50/50 JV between Komatsu and Ushio established 11 years ago to make lithography light sources, will now be taken over 100% by Komatsu per a new agreement between the partners. By mid-May the JV will be dissolved and become a wholly-owned Komatsu subsidiary.
Initially the JV was formed around excimer sources, but Gigaphoton has pressed ahead with R&D into EUV light sources: it's been working on laser-produced plasma (LPP), while parent Ushio has pursued discharge-produced plasma (DPP); officially separating those two thrusts of work is best, since ultimately they would compete. (Cymer also uses a LPP source.) German firm Xtreme — originally an Ushio/Philips JV, now fully owned by Ushio — has its latest DPP source in imec's new NXE:3100 beta tool.
In a letter sent to customers, Gigaphoton president/CEO Yuji Watanabe assured that there would be no affect to contracts, service, and logistics in place. "We believe that closer association with Komatsu will focus and enhance our competitive position in the excimer laser business and in R&D of next-generation lithography tools," he writes. "Given the current state of our EUV development, Gigaphoton is planning to commercialize its EUV program to further expand our business operations worldwide," he wrote.
Analysts' take
There will now be three independent companies pushing EUV source technology, assuming they all get appropriately supported and funded; and those funding structures probably have to change. (Good thing that Gigaphoton has what Watanabe wrote to customers is "a thriving DUV business" — those DUV profits may have to fund the EUV efforts, notes Gartner analyst Dean Freeman.)
Competition has a way of making everyone perform a little better — and progress in getting EUV production-ready has been lamentably slow, with fingers pointing in part to source power. Whether the addition of a third EUV source supplier moves the EUV needle is unclear, unless either Gigaphoton or Ushio has "something up their sleeve" from a technology development standpoint "and needed to be independent to make it happen, or to hide the development from each other," Freedman notes; if so we'll find out soon enough.
Gigaphoton described at this year's SPIE Symposium a first-generation LPP test source achieving >100W at intermediate focus and 3.3% conversion efficiency — but without clear pathways to scaling up to a next goal of 250W IF, 5% conversion, and 75% duty cycles by year's end. (Gigaphoton's Kenji Takahisa explains in more in this podcast, including the use of a short-wavelength prepulse and how debris is mitigated.)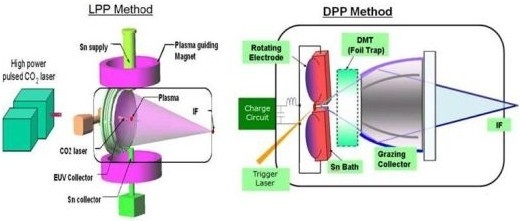 LPP vs. DPP sources. In LPP, plasma is produced by collecting powerful laser beams on a specified material; in the DPP method plasma is produced by charging large-current pulses between the electrodes. (Source: Gigaphoton)