May 23, 2011 – The top 20 semiconductor firms paced at 11% growth in 1Q11, raking in $54.8B in sales, led by the usual suspects, according to rankings from IC Insights.
The top 10 in sales stayed the same, with a couple companies swapping spots: Toshiba leapfrogged into 3rd place ahead of TSMC and TI, while ST and Hynix swapped places (7-8). Intel actually widened its overall lead over Samsung, nearly doubling its rival's sales growth over the quarter.
Further down the list, DRAM-dependent Elpida was a noticeable slider, from 13 down to 17, with a -31% Y/Y decline by far worst on the list. The other big memory firms (Samsung, Toshiba, Hynix, Micron) all managed at least some growth in the quarter, of which all but Hynix offset DRAM weakness with strong flash memory results. Recall a year ago, memory firms ruled the roost, in part due to a strong rebound, and partly that they suffered less than other sectors.
Also note the ascendance of Nvidia as the fourth "fabless" company in the top 20 list, joining Qualcomm, Broadcom, and now-fabless AMD. Its sales actually shrunk (-6%), but Panasonic's sales declined by more (-9%). If we were to exclude the two pure-play foundries (perennials TSMC and UMC), Marvell and ON Semi would have been included in these top 20 rankings. (And the combined On Semi-Sanyo Semiconductor entity would be very close to making the list outright, trailing by only $65M or so, IC Insights notes.)
Kudos to top growth, from both sides of the aisle: IDM giant Intel and fabless Broadcom both posted 25% growth in 1Q11, trailed by the other big fabless firm Qualcomm (22%), and foundry ace TSMC (18%). Only seven of the top 20 companies outpaced the group's 11% average growth, while five suffered losses (NXP, Infineon, Nvidia, Sony, Elpida).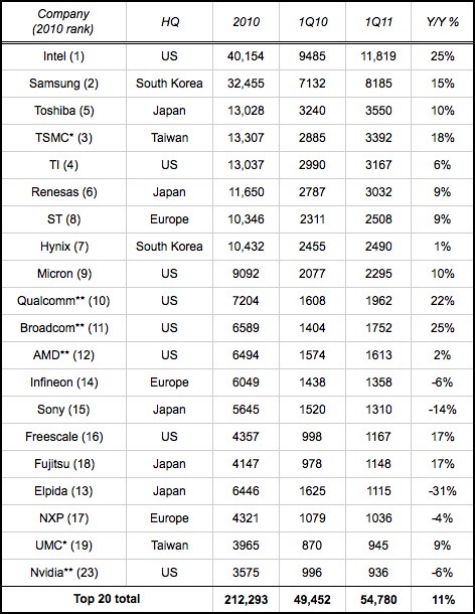 1Q11 top semiconductor sales leaders in US $M.
*Foundry **Fabless (Source: IC Insights, company reports)