by Mieke Van Bavel, science editor, imec
May 25, 2011 – The clock is ticking for EUV lithography, one of the main candidates to print critical layers in 22nm technology and beyond. According to Geert Vandenberghe, director of imec's advanced lithography program, EUV will now have to prove its readiness, laying high expectations on ASML's NXE:3100 preproduction tool, which is currently being installed at imec.
Nevertheless, he feels fairly secure about the tool's capability. Already today, it produces a handful of wafers per hour, a 10× improvement compared to ASML's alpha demo tool (ADT); this is expected to increase toward 60WPH by 1Q12. And from earlier tests at ASML, it seems that printing 22nm L/S comes within reach. Of course, besides tool development, mask defectivity and resist development remain in the top-3 of critical issues, but three years of on-site learning with the ASML ADT has enabled significant process. Take mask defectivity as an example. Some multilayer mask defects can currently only be found by wafer inspection techniques and you cannot repair them. But you can "mitigate" them (correct for their imaging effect), and imec has been able to do so. For resist, there is comparable good news.
Vandenberghe is convinced that all these issues have brought EUV closer to manufacturability. In parallel, his team is stretching 193nm immersion lithography to its ultimate limits to support technologies down to the 22nm node. They do this by co-optimizing scanner, process, and layout.
At next year's imec ITF, we will rendez-vous to see if both technologies have met the expectations.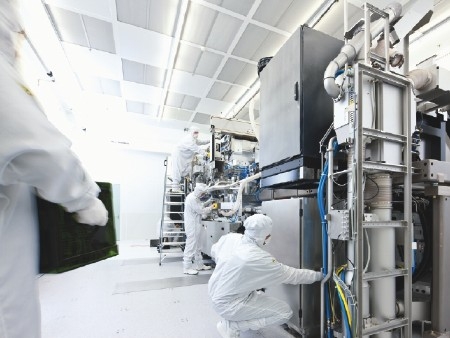 ASML's NXE:3100 tool being installed at imec.