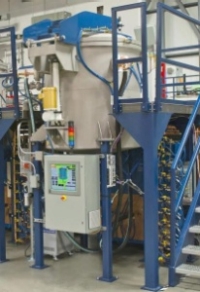 May 24, 2011 – BUSINESS WIRE — GT Solar International Inc. (NASDAQ:SOLR), polysilicon production and sapphire and silicon crystalline growth systems and materials provider, introduced the ASF100 advanced sapphire growth system, which produces larger 100kg sapphire boules in the standard furnace chamber. Larger sapphire substrates enable larger wafers for LED production, increasing throughput and reducing costs via scaling.
With GT Solar's acquisition of Crystal Systems in 2010, the company made a decision to break into large substrates for the LED market.
Early adopter customers are using the ASF sapphire growth systems as they enter the LED sapphire market, said Cheryl Diuguid, VP and GM, GT Solar sapphire equipment and materials group. Since the commercial introduction of the ASF system in the fall of 2010, GT has booked more than $450 million in orders from new entrants and existing sapphire producers.
Many LED suppliers are ramping to volume production, such as the LUXEON A LED from Philips Lumileds, which is fabbed without binning, and with advanced manufacturing controls. Each LUXEON A LED falls within one 3 step MacAdam ellipse space at actual operating conditions. Philips Lumileds' Iain Black, ConFab presenter, recently noted that LEDs are essentially chips, as they move from emerging research technology to high-volume wafer processing technologies.
Excelitas Technologies this week opened an LED Center of Excellence at its facility in Shenzhen, PR of China, a center of high-volume manufacturing. The new site will serve as a base for Excelitas Technologies to develop and manufacture advanced LED-based lighting.
The GT Solar ASF sapphire growth systems are designed to be scalable for fast ramps to volume production. The ASF100 provides a highly automated, low risk operating environment, capable of producing consistently uniform sapphire boules for high-brightness LED (HB LED) applications.
GT Solar International, Inc. is a global provider of polysilicon production technology, and sapphire and silicon crystalline growth systems and materials for the solar, LED and other specialty markets. For additional information about GT Solar, please visit www.gtsolar.com.
Subscribe to Solid State Technology/Advanced Packaging.
Follow Solid State Technology on Twitter.com via editors Pete Singer, twitter.com/PetesTweetsPW and Debra Vogler, twitter.com/dvogler_PV_semi.