by Debra Vogler, senior technical editor
May 18, 2011 – An Steegen, SVP of integration at imec, outlined the requirements to continue Moore's law for ConFab attendees: 50% area reduction, a ~25% performance increase at scaled Vdd, and an ~20% power reduction. The whole cycle repeats every 2-3 years. However, as the gate oxide become thinner, leakage increases exponentially. The industry has turned to materials-enabled scaling in addition to lithography-enabled scaling to tackle the challenge. High-k/metal gate (HKMG) or fully depleted SOI devices have already been used, as have high-mobility channels and strain engineering. But there are a plethora of possible structures, device types, and material approaches to get the industry to the next stage of the roadmap: spintronics, BISFETs, Ge TFETs, graphene FETs, pinch-off FETs, MTJ logic switches, InAs TFETs, and spin torque. Steegen mapped out a likely scenario for logic devices (Figure 1). 3D connectivity using TSVs and multi-core logic offer additional paths to continue scaling.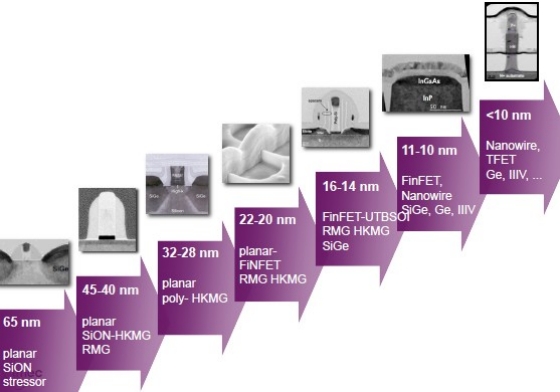 While all these things — new device architectures, going 3D, and the new materials required to do so — are important and vital to continue scaling, next-generation lithography is the 800lb gorilla in the room. Steegen offered up a likely roadmap toward <10nm resolution (put together by ASML). With three years of on-site EUV learning, imec has a great deal of data to characterize the tool, resists, and masks. While source power is still a challenge, Steegan said that EUV resist benchmarking (alpha demo tool with imec process of record) exhibited a good process window for 28nm L/S, though LER is still a concern. Post-processing techniques are required for LER smoothing. Mask results have shown four types of defects: absorber defects, particles from mask handling, cap deterioration, and multilayer defects.
With the installation of ASML's NXE 3100 at imec, the platform has already demonstrated a 20× increase in productivity (wph) over the alpha demo tool. (Reference conditions: 125 fields, 16×32mm, 10mJ/cm2.) The targeted productivity by the end of 2011 should be close to 100wph.
Steegen discusses imec's EUV advances in a video interview with Debra Vogler at The ConFab 2011: