May 5, 2011 — Crystals and MEMS are used in electronic components as the basis of oscillators. Both are popular in consumer electronics devices like smartphones. Crystal growth was significantly interupted by the major March 11 earthquake off the coast of Sendai, Japan. MEMS, on the other hand, seem to have escaped the disaster largely unscathed, show 2 new reports from IHS iSuppli.
"Numerous Japanese crystal products are manufactured in factories located near the epicenter of the earthquake or are situated close to the coastal regions impacted by the tsunami," Rick Pierson, senior analyst for CPT and semiconductors at IHS, said. Most MEMS fabs and foundries are located in southern Honshu, away from the disaster-devastated northern section of the island, noted Jérémie Bouchaud, director and principal analyst for MEMS at IHS. Moreover, MEMS and compass suppliers had been employing multiple fabrication plants for manufacturing before the quake and tsunami occurred, reducing the impact of supply disruptions caused by damage to a specific factory.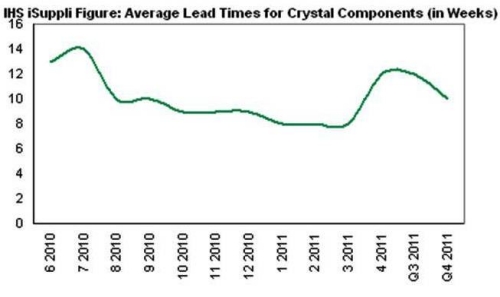 | | | | | | | | | | | | | | |
| --- | --- | --- | --- | --- | --- | --- | --- | --- | --- | --- | --- | --- | --- |
| | 6 2010 | 7 2010 | 8 2010 | 9 2010 | 10 2010 | 11 2010 | 12 2010 | 1 2011 | 2 2011 | 3 2011 | 4 2011 | Q3 2011 | Q4 2011 |
| KHz and MHz Crystals | 13 | 14 | 10 | 10 | 9 | 9 | 9 | 8 | 8 | 8 | 12 | 12 | 10 |
Disruptions spurred by the Japan earthquake and tsunami caused shipments of crystals to be delayed by four weeks in April compared to March, impacting the supply of a critical component employed in products including cell phones and PCs, new IHS iSuppli research indicates. The average lead time for megahertz and kilohertz crystals rose to 12 weeks in April, up 50% from eight weeks in March (figure). Unusually long lead times can lead to delivery delays and short supplies, which could threaten price increases.
"Because Japan is the world's leading producer of crystals — major suppliers include Epson, NDK and Citizen — the quake crisis will cause pricing for crystals from major Japanese suppliers to climb during the next few weeks," said Rick Pierson.
Among the facilities damaged in the disaster is a supplier's location in northern Japan that produces crystals for oscillator products. Damage was also sustained by two oscillator suppliers in Fukurawa and Kanagawa, as well as at NDK, which produces crystal oscillator products in its Furukawa, Osaki-city manufacturing site.
On a positive note, status reports from one leading manufacturer of quartz crystals and oscillators that are sold in cylindrical, plastic, metal and ceramic packages show production has restarted at that manufacturer's Yamanashi, Funehiki-cho, Tamura-shi and Fukushima-ken plants. However, aftershocks and recurring disruptions to the local power grid continue to delay the resumption of normal operations.
For the MEMS industry in general and for Japan's MEMS sector in particular, the damage was not as severe as initially feared due to a fortuitous accident of geography. Bouchaud pointed out.
Only three of the 22 most important MEMS and compass fabrication plants in Japan suffered direct damage, IHS iSuppli research shows, although 19 fabs potentially could be affected by the same logistical and power issues impacting all Japanese industries in the calamity's aftermath. The three damaged facilities belonged to Freescale, Canon Corp. and Texas Instruments (map) pinpointing the location of MEMS and digital compass fabrication facilities throughout Japan.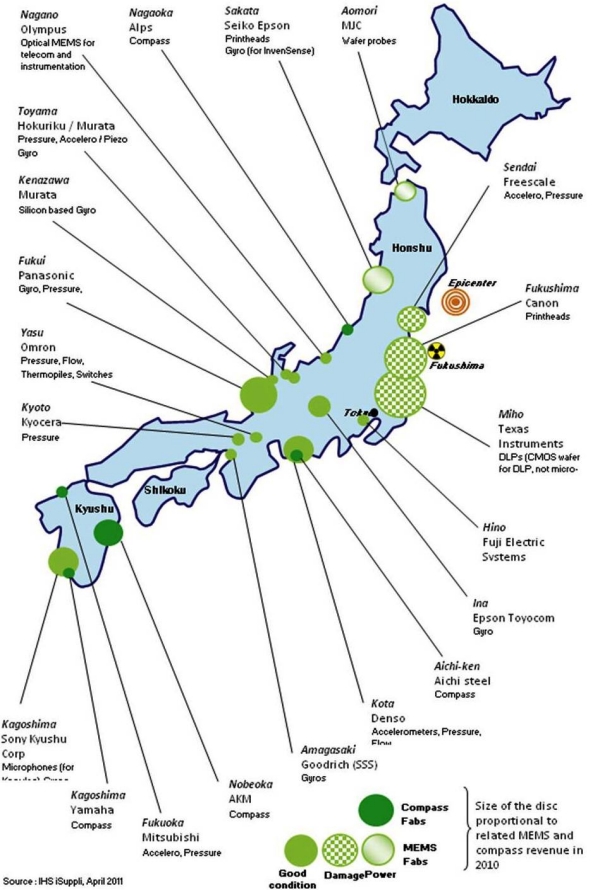 According to Freescale, the company has decided to close its 150mm fab in Sendai, near the quake's epicenter, and focus efforts on accelerating the transfer of MEMS production to its 200mm Oak III fab in Texas. Freescale was lucky in that the Sendai fab had been scheduled for shutdown by the end of 2011, and the company already had built buffer inventories. Had it not made this decision in 2009, Freescale and its customers would have been severely hurt, IHS believes.
For Canon, which makes printers and MEMS print heads in the city of Fukushima, site of the nuclear meltdown, production was halted after significant damage to the company's plant. However, Canon managed to repair the damage very quickly, with the plant completely operational again by the first week of April. As a result, the impact of the disaster on Canon's MEMS revenue for 2011 is expected to be very modest, IHS iSuppli data indicate.
For its part, Texas Instruments' Miho fab northeast of Tokyo has undergone the repair of various infrastructure systems for water, gases and chemicals. Full production will resume by the middle of July, with full shipment capacity to commence before September, the company said. Prior to the catastrophe, Texas Instruments already was using multiple fabs for the fabrication of CMOS wafers for DLP MEMS chips, and the company is in a fortunate position to rapidly increase production at its other fabs to compensate for the disruption at Miho.
To learn more about this topic, see the new IHS iSuppli report: The Japanese Disaster and Its Impact on the MEMS and Compass Industry
Also read: MEMS producers in Japan: Facility updates after earthquake