May 26, 2011 — BCC Research estimates that the sensors industry will be worth $91.5 billion in 2016. According to the research firm's report, "Sensors: Technologies and global markets (IAS006D)," the sensors rise will translate to a five-year compound annual growth rate (CAGR) of 7.8%.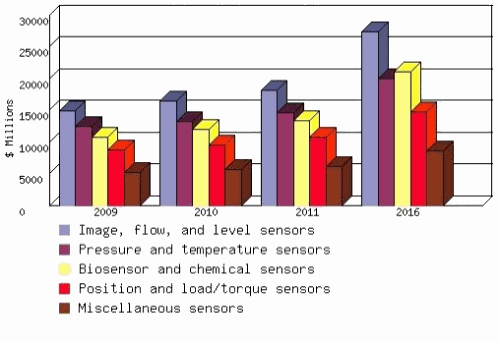 Figure. Global sensors market, 2009-2016 in $ millions. Source: BCC Research May 2011.
Image, flow, and level sensors will grow at 8.5% CAGR to $27.2 billion in 2016, after being valued at $18.1 billion in 2011. This is considered the largest segment of the sensors market.
The second-largest segment, pressure and temperature sensors, equals roughly $14.5 billion in 2011. Expect to see that grow at 6.7% CAGR to nearly $20 billion in 2016.
Biosensors and chemical sensors are at $13.3 billion in 2011, and should hit $21 billion if the segment follows its projected 9.6% CAGR.
Position and load/torque sensors are worth $10.7 billion today. By 2016, 6.5% CAGR will drive the expected value to $14.7 billion.
The remaining "miscellaneous" sensors make up $6.1 billion of the overall sensors market. BCC Research forecasts a 6.7% CAGR through 2016.
Sensors are diversified into a range of end-use industries and products. BCC Research's report takes into consideration various applications, sensor development and production technologies, and major market trends in terms of region and application sector. The report highlights new sensor developments with respect to continuous improvements in environmental performance.
To learn more, contact BCC Research (http://www.bccresearch.com), 35 Walnut Street, Suite 100, Wellesley, MA; Telephone: 866-285-7215
Follow Small Times on Twitter.com by clicking www.twitter.com/smalltimes. Or join our Facebook group