June 8, 20111 – The semiconductor industry's torrid pace of capital equipment expenditures will continue in 2011, but actual construction of new fabs is slowing to "historically low" levels, according to data from SEMI.
Some companies in 2011 have already increased their guidance for capital spending (most notably Intel), which should help push total fab equipment spending to a record $44B this year, says Christian Gregor Dieseldorff, senior analyst of fab information in SEMI's Industry Research and Statistics group. Spending in 2012 will dip slightly (-6%) to $41B, he predicts.
But in stark contrast to equipment spending, actual fab construction is slowing down significantly, and that could spell trouble for capacity plans in 2012 and beyond, he warns. 17 new volume fabs have "a high probability" (>60%) of beginning construction this year, but 13 of those are for LEDs — only four volume semiconductor fabs are slated to break ground this year. And in 2012, only another four chip fabs are on the boards. SEMI also is now calculating who is looking to build out 450mm facilities, with construction beginning last year and more in this year.
Installed capacity should rise about 9% this year and another 7% in 2012 and (excluding discretes) is leveling off to <10% annually, according to Dieseldorff. (The Japan earthquake/tsunami/nuclear/recovery odyssey won't have a significant impact on installed capacity, minus some possible short-term effects on utilization and output, he adds.) Foundry capacity growth surpassed memory fab capacity in 2010 and should do so again in 2011 (13% vs. 8%), while LEDs continue to race ahead in with double-digit growth (40% in 2011). Memory still dominates with 38% of installed fab capacity, trailed by foundries (29%).
The fab spending and construction forecasts will be part of a joint SEMI/Gartner market symposium at SEMICON West, on Monday afternoon July 11.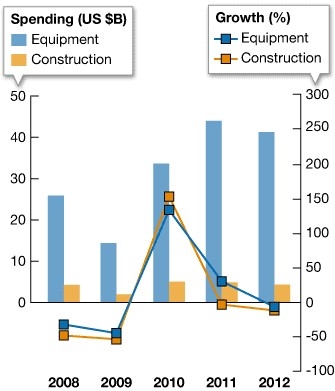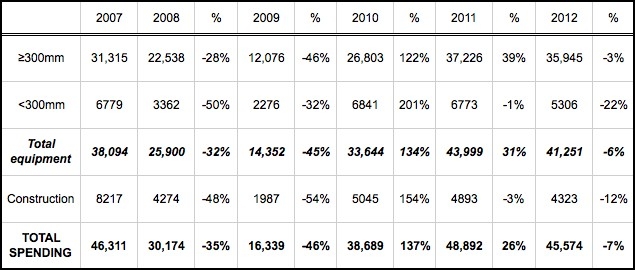 Spending on equipment (new and used) by wafer size, and construction, in US $M.
*Number rounded (Source: SEMI World Fab Forecast, May 2011)