June 9, 2011 — Nordson Corporation (NASDAQ:NDSN) opened a demo center in Dongguan, China for customers of its Advanced Technology Systems operating segment. Nordson ASYMTEK, Nordson DAGE, and Nordson YESTECH brands will be represented in equipment demonstrations, application engineering support, training, sales, and service.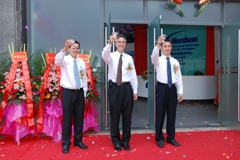 Nordson leaders celebrate the opening of the company's newest facility in China. From left to right: Leyu Louis, Sales & Business Development Manager (Bondtester Division) Nordson DAGE; Greg Wood, Vice President, Nordson Advanced Technology Group, Asia; and Frank Wang, General Manager, Greater China Nordson ASYMTEK
The Nordson brands provide dispensing, coating and testing for high-technology and related sectors. South China's advanced manufacturing base is growing, and the Dongguan facility adds to Nordson's China-wide presence Beijing, Shanghai, Guangzhou and Suzhou, said Greg Wood, VP, Nordson Advanced Technology Group, Asia.

Nordson ASYMTEK provides precision automated fluid dispensing, conformal coating, and jetting technologies.
Nordson DAGE manufactures high-resolution x-ray inspection and bond testing equipment for analyzing the integrity of electronic connections in semiconductor packages and printed circuit board assemblies.
Nordson YESTECH designs and manufactures automated optical inspection and x-ray inspection systems for yield enhancement in electronic assembly industries.
Subscribe to Solid State Technology/Advanced Packaging.
Follow Solid State Technology on Twitter.com via editors Pete Singer, twitter.com/PetesTweetsPW and Debra Vogler, twitter.com/dvogler_PV_semi.