Sharon Stiefel, IHS iSuppli
June 2, 2011 — Excess semiconductor chip inventories are generally a cause for concern, flooding the market and swaying average selling prices (ASPs). In the wake of the March 11 Great East Japan earthquake and tsunami, however, several fabs went off-line in the Sendai area. Rolling power outages and aftershocks significantly disrupted wafer fabs that didn't see outright earthquake damage. In Q1 2011, the excess inventory helped smooth out shortages at these fabs, IHS iSuppli (NYSE: IHS) research indicates.
Days of inventory (DOI) for non-memory chip suppliers was estimated at 80.3 days by the tail end of Q1: a 1.1% increase from 79.4 days in Q4 2010 and 9.1 days longer year-over-year. 80.3 days lead time was a two-year high (Q1 2009 DOI was 82.4). Semiconductor DOI has steadily risen since Q3 2009, paralleling a rise in inventory value since Q1 2010. Inventory value in Q1 2011 was an estimated $26.2 billion.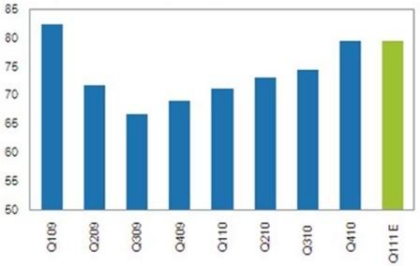 Figure. Average days of inventory for semiconductor suppliers. SOURCE: IHS iSuppli, May 2011.
The seasonally slow Q4-Q1 period is when suppliers try to build up inventories, which helped mitigate the fab stoppages, said Sharon Stiefel, analyst for semiconductor market intelligence at IHS, noting that excesses led to a "2-4 week cushion of raw materials, work-in-process (WIP) goods and finished products."
The Japan disaster occurred late in the first quarter, which also dampened the supply chain effect on Q1, Stiefel added. The second quarter may also show less severe shortages than once predicted, as damaged or powerless semiconductor manufacturing facilities returned to normal operations.
Semiconductor makers facing severely damaged fabs, like Renesas Electronics, have aggressively transferred fab work to other internal facilities or outside foundries. Production from Renesas' damaged Naka facility was redistributed to other sites soon after the quake, and the company is targeting pre-disaster production levels in July.
Inventories will continue to climb through Q2, as companies make up for lost production and ramp for seasonally busy Q2 and Q3, IHS believes. Component shortage fears will fade out except in some specific instances, though many companies are learning from the Japan disaster and reconsidering a just-in-time inventory strategy. Just-in-time inventory management keeps costs down, but in the event of a supply chain disruption, companies could lose key orders. IHS iSuppli notes that it is too early to tell what will come of this supply chain re-evaluation.
Beyond Q2, the inventory/demand relationship might come under strain. "Once internal inventories dwindle, the pipeline may not be replenished quickly enough to meet all of the end demand, creating risks for participants in the supply chain," Stiefel warned.
Read more from IHS iSuppli in Elevated Semiconductor Inventories Cushion Japan Impact: http://www.isuppli.com/Semiconductor-Value-Chain/Pages/Elevated-Semiconductor-Inventories-Cushion-Japan-Impact.aspx?PRX or visit IHS iSuppli's website at www.isuppli.com.
Subscribe to Solid State Technology/Advanced Packaging.
Follow Solid State Technology on Twitter.com via editors Pete Singer, twitter.com/PetesTweetsPW and Debra Vogler, twitter.com/dvogler_PV_semi.