June 13, 2011 – No big changes in the WSTS' final 2010 figures from its update last November; everything's generally less than 1% rewritten either up or down. The new forecast represents "moderate growth" for this year, adding $16.1B from 2010's actual results ($298.3B). Look for a little better growth in 2012 (but still in single-digits), and retreating back to 2011 levels in 2013, for a three-year CAGR of 6.13%.
2011's outlook is a bit more optimistic overall, 5.4% to $314.4B, vs. 4.5%. For 2012, the WSTS sees semiconductor sales overall rising to 7.6% growth and $338.4B. In 2013 the WSTS expects some pullback but still single-digit growth, to $356.6B.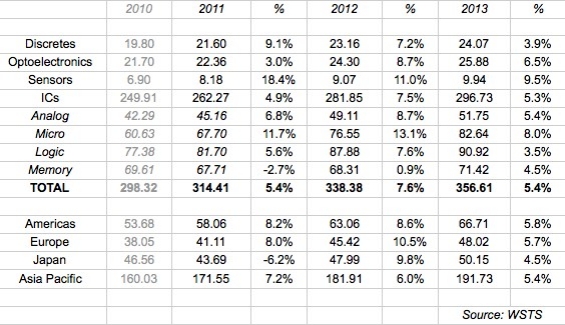 But while the overall tone of the forecast is moderate, there are some updates worth note:
Discretes still growing. Over the next two years, the WSTS sees discretes growing >9% and >7%, adding over $3.3B — vs. six months ago when it expected <5% in each year for an extra $1.8B.
Sensational sensors. It's an even more rosy update for the sensors sector, which the WSTS expects to surge 18% in 2011 to $8.18B, and another 11% in 2012 to $9B — both growth rates about double what were predicted six months ago. For 2013 the WSTS projects nearly another 10% for sensors sales (still almost twice the overall market) to just under $10B.
Enjoy Europe. By region, the top growth-getter in 2011 will be (again) the Americas at ~8%, but right next to it is Europe — and Europe will take over first place in 2012 with 10.5% growth to $45.4B, WSTS thinks.
Ouch for opto. Optoelectronics isn't getting the same love as its brethren, though. Where in November the WSTS expected growth of nearly 34% and 10% in 2010-2011, now it says just 27% and 3%, falling about $2.65B short of expectations. (Opto should still climb back a little bit in 2012 with slightly better-than-anticipated 8.7% growth, and another 6.5% in 2013.)
Japan effect. No surprise that the WSTS sees a big dropoff in Japan this year, down -6% to $43.69B in what had been expected to be a regional-best 5.2% year to $49.04B. Much of that will be made up in 2012, though, with nearly 10% growth to ~$48B.